ADTC Teams Receiving Award-2018
Many thanks to Judy Lasso and Pat Gombocz for all their hard work organizing and producing our Awesome Annual Awards' Trophies & Certificates…and to the Awards' Banquet Committee for hosting a wonderful evening of good food and great raffle prizes.
CONGRATULATIONS TO OUR AWARD WINNERS FOR YOUR ACHIEVEMENTS!!
Debbie & Chuck Achenzie
Freddy
Dog Novice
Trick Dog Intermediate
Trick Dog Advanced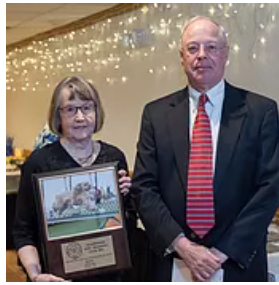 Barbara Artim
Spencer
Utility Dog
UD CHALLANGE TROPHY
Karen Belmont
Indy
Canine Good Citizen
Trick Dog Novice
Rally Novice
Beginner Novice
Phyllis Broderick
Wings
Community Canine Adv. CGC
Trick Dog Novice
Obedience Master 1
Wilma Brucker
Stanley
Rally Novice
Janice Cooper
Jake & Jessie
Jake – Trick Dog Novice
Jake – Trick Dog Intermediate
Jessie – Companion Dog
Jessie – Trick Dog Intermediate
Jessie – Community Canine Adv. CGC
Jessie – Trick Dog Novice
Jessie – Rally Novice
Cris Courduff
Ruger
Companion Dog
Canine Good Citizen
Trick Dog Novice
Rally Advanced
Rally Excellent
Agility Novice Jumpers
Robin Deily
Phoenix
Beginner Novice
Jodi DeLabar
Hershey
Companion Dog
Rally Advanced
David Dock
Odie
Beginner Novice
Rally Intermediate
Pat Gombocz
Patience
Beginner Novice
Suzanne Gradwell
Kohl
Masters Agility Ex. Preferred 2
Masters Agility Ex. Preferred 3
Master Bronze Agility Preferred
Master Excllent Jumper Preferred 3
Master Bronze Jumper Preferred
Barbara Grotzinger
Clyde
Rally Advanced
Rally Excellent
Anna Guglielmo
Luna
Utility Dog Excellent
Obedience Master 1
Obedience Master 2
Jacqui Hartranft
Abbey & Cooper
Abbey – Companion Dog
Abbey – Preferred Companion Dog
Cooper – Canine Good Citizen
Cooper – Trick Dog Novice
Cooper – Trick Dog Intermediate
Diane Hilperts
Teagan
Rally Novice
Trick Dog Novice
Trick Dog Intermediate
Trick Dog Advanced
Sue Iobst
Quid
Tracking Dog
Versatile Companion Dog 1
Barbara Katz
Alvin & Hugo
Alvin – Canine Good Citizen
Alvin – Trick Dog Novice
Hugo – Trick Dog Novice
Evelyn Kondash
Rustle
Agility Course Test
Trick Dog Novice
Therapy Dog
Trick Dog Intermediate

Judy Lasso
Piper
Trick Dog Novice
Trick Dog Intermediat
Trick Dog Advanced
Barn Hunt Open
Rally Excellent
Trick Dog Performer
Irwin & Lois Ann Linker
Casey
Grand Champion
Beginner Novice
Canine Good Citizen
Trick Dog Novice
Trick Dog Intermediate
Trick Dog Advanced
Steven Markowitz
Riley
Canine Good Citizen
Therapy Dog Novice
Mary Minnich
Keyda
Rally Advanced
Rally Excellent
Rose Mitman
Jett
Trick Dog Novice
Trick Dog Intermediate
Trick Dog Advanced
Rally Intermediate
Janet Mohr
Pia
Trick Dog Novice
Trick Dog Intermediate
Lois Obeicz
Ion & Tickle
Ion – Rally Novice
Tickle – Senior Courser
Tickle – Field Champion
Tickle – Rally Novice
Terry Papineau
Gunny
Companion Dog
Trick Dog Novice
Trick Dog Intermediate
Canine Good Citizen
Trick Dog Advanced
CD CHALLENGE TROPHY
Kathy Pugh
Jersey
Versatility
Utility Dog Ex. 2
Obedience Master 3
Obecience Master 4
Barbara Ryan
Abbey
Companion Dog
Susan Sacco
Jonsey
Canine Good Citizen
Novice Agility Jumper
Sande Shields
Sunny
Beginner Novice
Judith Skorup
Emma
Canine Good Citizen
Rally Novice
Trick Dog Novice
Beginner Novice
Trick Dog Intermediate
Community Canine Adv. CGC
Coursing Agility Dog
Urban CGC
Rally Intermediate
Dusty Springer
Sam
Graduate Open
Barbara Sulzer
Dillon
Rally Novice
Beginner Novice
Anne Wheeler
Flynn & Noah
Flynn – Rally Excellent
Flynn – Novice Fast
Flynn – Novice Agility
Noah – Graduate Open
Noah – Excellent Fast